Various school groups have taken to the tracks in term 3 to learn about the Light Rail Network and how to stay safe on-board.
Kindergarten and Year 1 classes from Majura Primary School and Charnwood-Dunlop Primary School visited the depot for a safety tour of the Light Rail Vehicles, with a year 5 group from Majura Primary School also enjoying a short presentation about the sustainability practices undertaken by the Light Rail Project.
The CMET School Safety Tours are developed to be incorporated into the learning modules students are studying; whether that's infrastructure, public transport, sustainability and consumer choice and more. The program is aimed at growing student's understanding and awareness of safety on and around the Light Rail in a safe and controlled area. Students are able to see first-hand the driver's cab during the tours. For older year groups, short presentations about the project are also able to be tailored to the group's needs.
The students enjoyed their trips, with the Kindergarten classes of Charnwood-Dunlop Primary School making thank you cards for the CMET team (photo). The whole CMET team loved seeing some of the great kindy artwork of their experience on the Light Rail!
CMET also support school groups travelling on the Light Rail, with the Customer Service Team attending to assist groups with boarding and give a safety briefing to students. During term 3 Brindabella Christian College took more than 100 of their students to the careers expo at EPIC on the Light Rail, with a safety briefing from the CMET team at the Dickson stop.
If you would like more information about how CMET can support your school group, please get in contact with the team at info@cmet.com.au.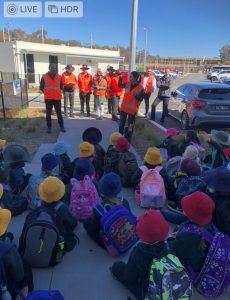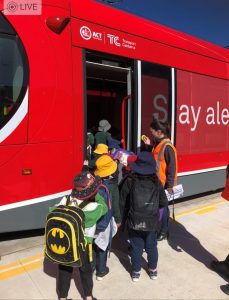 Check out all of the photos of the visits in our Gallery