Our Commitment
CMET is committed to:
Delivering light rail transport services in a way that balances, economic, environmental, and social issues to ensure a sustainable light rail system for the ACT
Caring for the environment and mitigating negative environmental, social, and economic impacts in all our operations undertakings.
Creating net positive benefits for the community and environment.
Identifying and implementing pollution control initiatives and aims for a target of zero pollution incidents and zero net carbon emissions during operations.
Achieving and maintaining a 100% renewable electricity target through the project operations.
View Our Environmental and Sustainability Policy
Sustainability Outcomes
Sustainability through design
The main objectives of the sustainable design process are to reduce, or completely avoid, depletion of critical resources and create built environments that are liveable, comfortable, safe, and productive. The project has adopted suitable design principles as a core value throughout the infrastructure development process. The criteria that was addressed in the design use the following six fundamental principles:
Optimisation of site potential.
Optimisation of energy use.
Optimisation of water use.
Optimisation of space and material use.
Enhancement of environmental quality.
Optimisation of operations and maintenance practices.
Key initiatives through the design process were:
The main administration and maintenance building acts as a large rain water collector. Down pipes are configured to divert water to storage and treatment tanks. This will assist in the collection of rainwater, which in turn will reduce potable water use.
The installation of 99kW of solar panels on the Depot roof, designed to reduce grid energy consumption and provide additional renewable energy sources for the project.
An LRV wash bay which features a closed-loop system, using 70% recycled water. The LRV wash system recycles approximately 70% of the water used in each cycle. However, spray losses and filtration losses need to be made-up from the potable water supply. This system greatly reduces potable water use compared to conventional wash systems.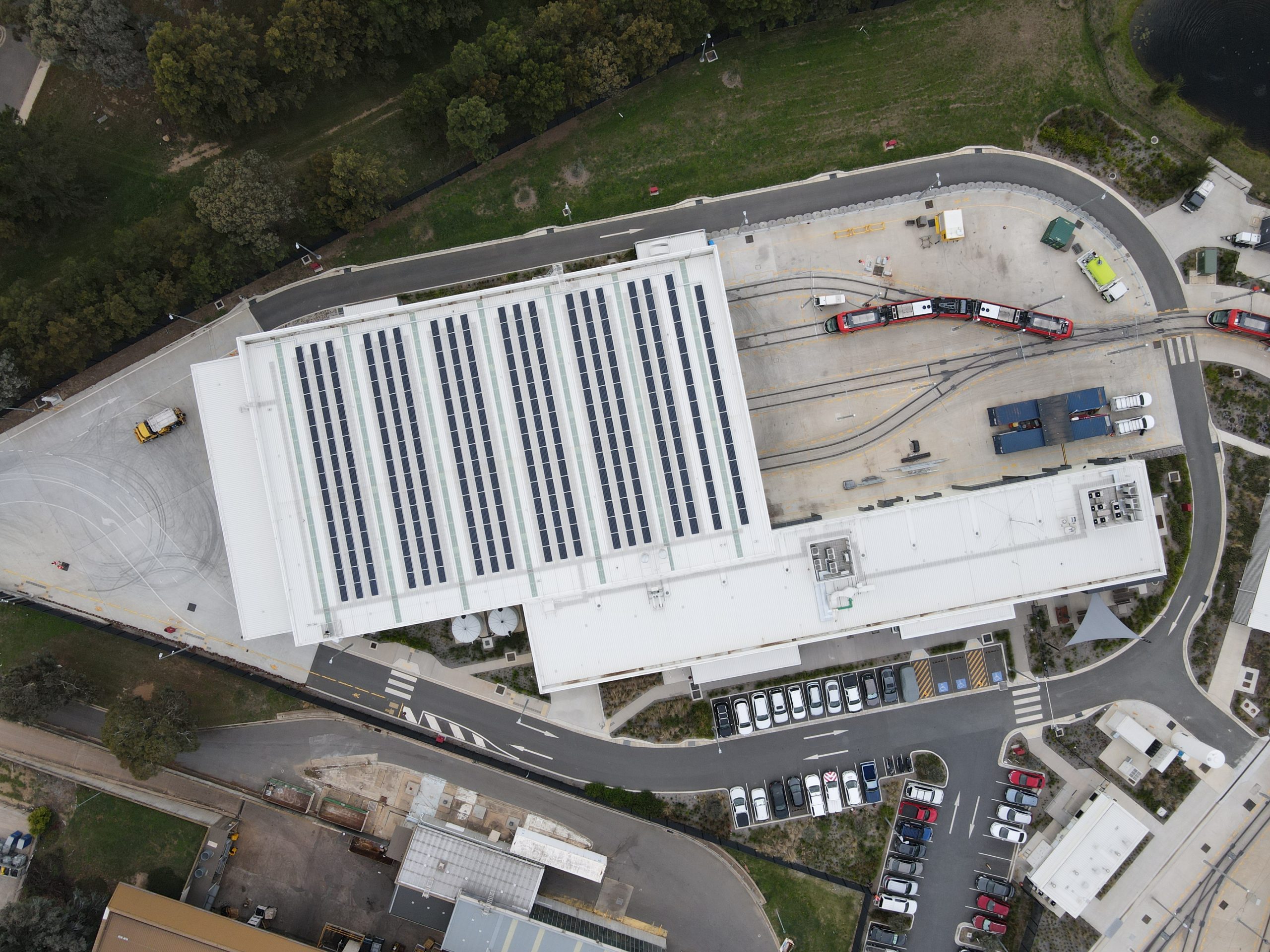 Sustainability through operations
The ability to implement regenerative braking technologies through LRV procurement and required traction power system upgrades results in approximately 1,004MWh p.a. could be saved through more efficient operation.
Regenerative power produced in vehicle braking is redirected back into the Traction Power Substations (TPS) along the rail alignment, reducing grid energy consumption.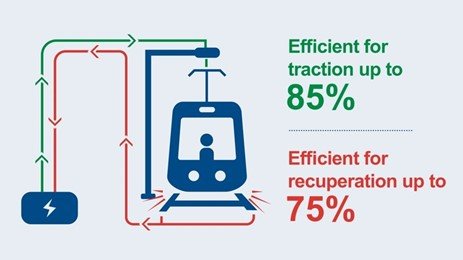 Sustainability through maintenance, landscape and procurement 
Landscaping strategies have been designed to be irrigation free, using drought resistant native species combined with rainwater harvesting from the track run off. The track slab was designed with drainage points, reducing run off into local water ways and improving water retention for landscape around the tracks.
Watering is conducted as per the Urban Design, Landscaping Specification and Compliance and is monitored using CMET's compliance tracking matrix. Rainfall will be monitored as to ensure the finished landscape is not over and or under watered.
The project has identified that it is important to support the local business community. It set an ambitious local industry participation target of 70% of all jobs during both the delivery and operational phase of the project being from local workforce, with the project prioritising local subcontractors.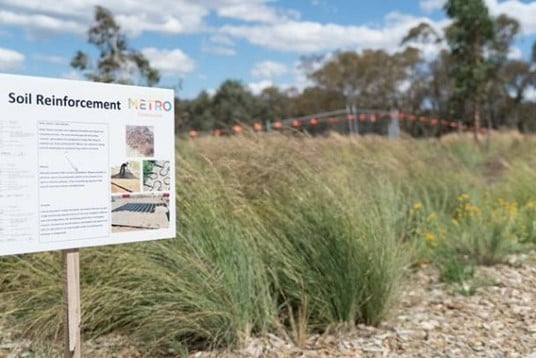 Sustainability for the future
The Light Rail is powered by 100% renewable energy. Further, CMET will offset all operating emissions to achieve zero net carbon emissions by designing, building, operating and adapting to climate change impacts and societal needs.
CMET will develop, maintain and implement a Sustainability Management Framework that integrates sustainability and innovation into the overall operation of the system, following the Plan, Check, Act, Do model.  CMET achieved excellent Infrastructure Sustainability (IS) rating under the Infrastructure Sustainability Council of Australia (ISCA).  Drawing on the lessons learnt from sustainability management across CMET and other projects across Australia, CMET will aim to meet or exceed requirements for sustainability and IS Rating. This will involve working collaboratively with local government and stakeholders to ensure IS Rating obligations and opportunities are considered and incorporated within project operations.

Awards
Infrastructure Sustainability Council of Australia (ISCA) awarded Excellent Infrastructure Sustainability (IS)  design rating for the Canberra Light Rail Project stage 1
Shortlisted for the sustainability project of the year ISCA 2017
Asia-Pacific Transport Deal of the Year 2016 – Stage 1 of Canberra's light rail network awarded by Project Finance International