Canberra has a new safety message travelling the light rail tracks, thanks to Gungahlin College student Tahlia Jones.
Today, Thursday 19 December ACT Minister for Transport Chris Steel, along with ACT Minister for Education and Early Childhood Development Yvette Berry officially unveiled the newly wrapped Light Rail Vehicle featuring Tahlia's design. Joining the Ministers for the unveiling were AFP, Transport Canberra and CMET officials, along with the CMET & Gungahlin poster finalists Tahlia Jones, Paloma Alves, Jasmin Turner and their families.
Tahlia was a joint-winner of CMET and Gungahlin College's Safety Campaign that was announced last month, joined by Paloma Alves with her 'You can't pause this track' campaign. The judges were so impressed with the impact of Tahlia's message that CMET, together with Transport Canberra, turned her poster into light rail wrap.
When asked about the light rail wrap, and the safety message for those travelling around the light rail it portrays, General Manager Tilo Franz said:
"The unconventional and very stylish pop-art wrap is hoped to be an eye-catching safety message for all Canberrans. We see numerous near-miss events every week, as the videos Minister Steel releases show. We need passengers, pedestrians and motorists to pay attention to traffic signals and obey the road rules so that everyone remains safe around light rail. "
"This design really turned out better than we ever expected. Having seen many other light rail networks around the world, this design really is outstanding and Tahlia should be extremely proud".
The LRV went straight into service from Gungahlin, carrying Tahlia and her family on it's first official journey.
Meet Tahlia – Joint winner of CMET & Gungahlin College's Safety Campaign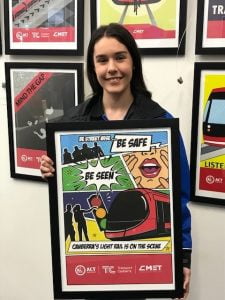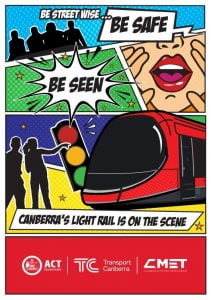 Name: Tahlia Jones
Year 11
Poster campaign: Be Safe Be Seen Canberra's Light Rail is on the scene
Tell us a little about yourself:
I came to Gungahlin College for the media and photography classes, and this graphic design class tied well into those classes and helped me up-skill in the programs and applications used more broadly in design today.
Tell us a bit about your safety campaign
When we started the project at school, the first thing that came to mind was comic books and pop art, I'm not sure why. I chose a message that suited the style and built up from there.
Do you use the Light Rail?
No I don't! But I have been on a few times to get to Civic.
What inspired you to choose this message?
It was really something that suited the style. I don't know, I just think that the pop art and comic book style speaks to all ages and really jumps out for everyone who looks at it.
What about the design do you think talks to people? It catches their eye. Everyone knows what a comic book is, it's engaging for all ages.
What do you think the most important safety message is for passengers?
Exactly what the poster (and now LRV!) says, to be safe, you need to be seen. Stay on paths and crossings.