Last Friday afternoon General Manager Tilo Franz donned the CMET Customer Service reds and headed out with CSOs Ryan & Pauline to get 'the temperature on the ground' as part of CMET's Meet the Manager program. Tilo assisted at the Nullarbor Ave and Dickson interchange stops during the after-school rush before heading to Alinga St for the evening peak. Tilo enjoyed chatting to passengers, including ACT Chief Minister Andrew Barr who stopped during his Light Rail journey to speak with Tilo and the customer service team.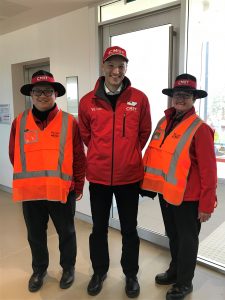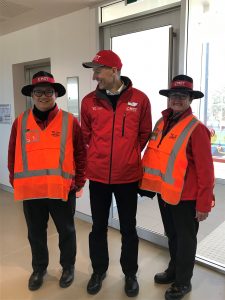 After his time out on the front line of service, Tilo stopped past the Customer Service office to talk about his experience:
Q. What was the most enjoyable part of the experience?
I enjoyed most to see that our Operations team has gained a level of experience and self-confidence to run the light rail on a regular basis with the precision almost like a "Swiss Watch". In particular during peak hours, the light rail operates to its performance expectations and appreciation by our passengers is the best reward for it!
Q. What was the most surprising aspect of the experience?
Everyone is still learning to use light rail, and how it integrates into the lives of Canberrans, what it can do and what it can't. It is still a very new system in town and Canberra having no history in urban rail makes it obviously still a bit of an adventure for some people to use it safely and efficiently on a daily basis.
Q. What advice do you have for passengers travelling on the Light Rail? 
My first and most important advise is to respect and follow the advice of CMET operations staff (CSOs, Drivers and Operations Control) when traveling with the Light Rail. Our major concern is the safety of our passengers but we can only provide a safe environment if our passengers as well as motorists are sticking to the rules without bypassing those at various locations. Stay behind the yellow line at stations, respect the traffic lights, don't cross on a red signal regardless whether by car or on foot. When traveling on the light rail make sure you're secured in your position by either sitting or holding a handrail. Don't obstruct the doors but allow others to board or alight without blocking their way. If you have any questions on the Light Rail, about services or more generally about Canberra please ask our CSO Team, they are more than happy to help you enjoy your journey to the fullest!
With Meet the Manager running as an ongoing program, you might catch Tilo or one of the other CMET managers on board chatting to passengers about their journeys.