It's time to head back to school! Are your children ready?
The best way to plan the trip to and from school is with the Transport Canberra Journey Planner. You can use the journey planner to plan your trip by light rail, bus, walking or riding.
Our priority heading back into the school year is to make sure that public transport remains COVID Safe. We have increased cleaning each day across the network to ensure the safety of our passengers. Hard surfaces across light rail stops and bus interchanges are cleaned daily and touch points on board light rail vehicles are cleaned during services, with cleaners stationed at Alinga Street and Gungahlin Place termini.
Please make sure that your children are not catching public transport or attending school if they are sick. For the latest ACT COVID-19 information visit www.covid19.act.gov.au.
Catching light rail
If your child is catching the light rail to school we recommend familiarising them with their route so they know which stop the light rail will pick them up from in the morning and where to get off at the end of the day.
It is important to ensure you know how to stay safe when near the light rail corridor so make sure your child is familiar with these rules:
When using the light rail, remember to 'Pay attention and stay RailSAFE':

Stay behind the yellow line at the light rail stop.
Avoid distractions such as phones and headphones when around the light rail.
Follow the rules:

Cross at designated crossings and wait for the green signal
Stay clear of the doors to let passengers exit the light rail vehicle before you begin boarding.
Hold on when on board

Encourage others to be safe.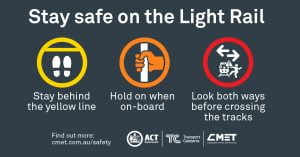 MyWay
It is easy to get your child a MyWay card and it will save you time and money! All school students receive a discounted fare when using MyWay. Children can simply tap on and off to pay the cheapest fare.
A MyWay card that it is registered and topped up with sufficient funds is imperative to starting the school year off right. MyWay is the most cost-effective option to travel in and around Canberra on public transport.
The MyWay page has all the information on buying, registering and topping up MyWay.
You can stay up to date with CMET updates, including changes to our services and latest news by signing up to the CMET weekly e-newsletter and like us on Facebook and Instagram.