As the summer holidays come to an end and the 2020 school year begins, here are some tips and reminders for students travelling on the light rail:
Remember your MyWay Card
You can top-up your balance at ticket vending machines, there's one on every stop. To make sure you never run out of money on your MyWay you can set up Autoload. Head to the Transport Canberra website for more information.
Tap on at the platform before boarding the Light Rail Vehicle (LRV)
Tap off at your destination to ensure you pay the cheapest fare
Carry your Student ID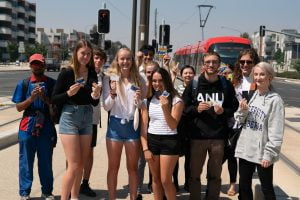 Students may be asked to produce their student ID by Customer Service Officers (CSOs) conducting ticket checks, especially if they are not wearing school uniform. If you school provides a School ID, remember to carry it with you, even if you travel on the weekends or during the school holidays.
Stay Safe at stops & on-board
There are a few things you can do to stay safe while travelling on light rail:
Only cross at designated crossings and always look both ways before crossing the tracks at intersections and crossings. LRVs can approach from either direction and at any time.
When waiting at a stop, stand back from the tracks behind the yellow line.
Please keep the doorways clear and wait for all customers to exit before you board.
Allow passengers with mobility impairment or wheelchairs to board first.
Remember to hold on at all times, particularly when the LRV first moves away from the stop. The best thing to do is steady yourself, look for the nearest seat and use the safety handles, seat backs and poles when you are standing to steady yourself until you sit down.
Remember
CSOs are there to help. If you have questions or feel unsure about travelling on light rail, ask a friendly CSO for their assistance.
If there aren't CSOs and you need assistance on a light rail stop or on-board an LRV, you can press an emergency help point to speak with the Operations Control Centre (OCC). Pressing an emergency help point will also bring up your location on the CCTV screens, so that OCC can monitor the situation in real-time.
See you on the light rail!